Ilys Booker Drop-in Consultation – The site
Site Opportunities 
The proposal provides an opportunity to enhance the environment in this part of the estate. We would like to create a facility that not only provides a play and learning resource for young parents and children but also training and development courses for the wider community as well. It could also offer space for community meetings.
Existing Section
Proposed Section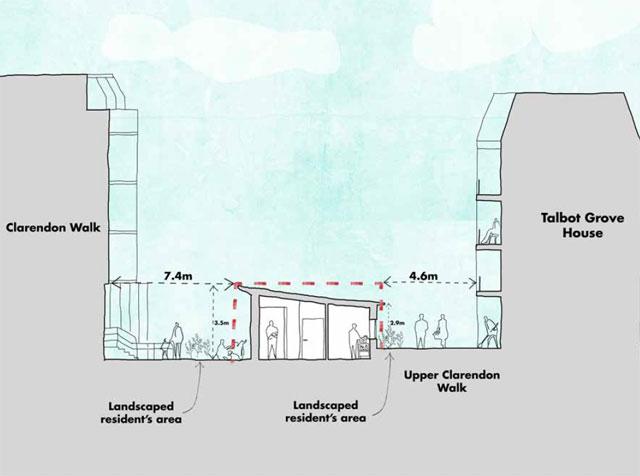 Opportunity to improve the area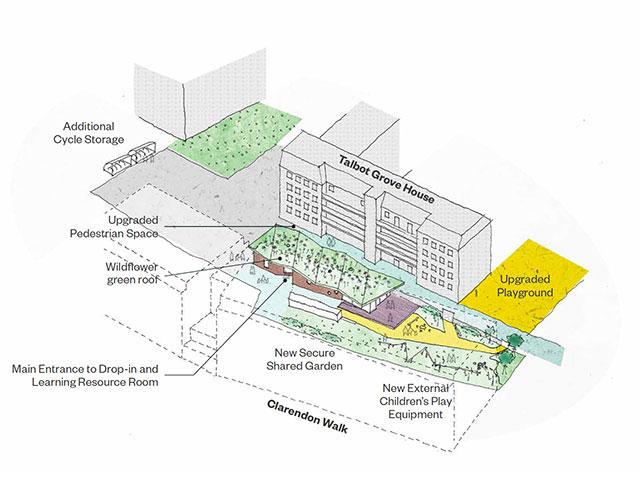 Create pedestrian-friendly places and improve security
The proposal would create better quality spaces around the building and improve security in the area using passive surveillance. The proposal would make the road in front of Talbot Grove House less vehicular focused and more child-friendly. It would also repave the area in front of Clarendon Walk.
Improve gardens, playgrounds, and storage
The surrounding garden and playgrounds would be improved as part of the proposal bringing benefits for both the users of the drop-in and the estate community. The shared garden would be accessible to residents in the afternoons, evenings, and weekends. The existing planting would be replaced with a beautiful wildflower green roof on top of the building.
The proposal would include new bike storage facilities in St Marks' Close in response to increased demand for cycle storage in the neighbourhood. The existing bin store would be relocated to space in the undercroft of Clarendon Walk.
Challenges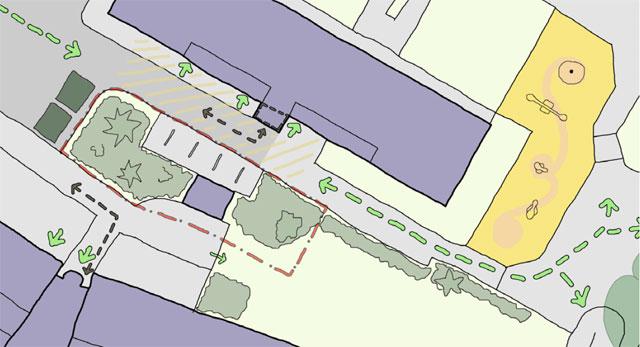 Proximity to Talbot Grove House
The proximity of the proposal to Talbot Grove House has been carefully considered. The building is sunk into the landscape to reduce the height, and the elevation facing Talbot Grove House would be designed for use by residents (planting or seating).
Access
The entrance to the proposal is located towards Clarendon Walk and the proposal retains access to all homes.
Noise and disruption
Off-site manufacture would be used to reduce noise during construction.
Bin and cycle store
The existing bin store would be moved to a purpose-built area in the undercroft of
Clarendon Walk. Additional cycle provision would be located in St. Marks Close.