Royal Borough Environment Project
The Royal Borough Environment Project (RBEP) works in partnership with the public, private and voluntary sectors, to improve the environment in Kensington and Chelsea and to involve the local community in improving their local neighbourhood. The RBEP delivers a wide range of large and small environmental improvements such as grot spot improvements, forgotten corners, community planting events, bridge improvements, open space enhancements and community kitchen gardens. Find out more information in the RBEPs progress report.
See also: Platform turned `plotform' scoops Big Challenge biodiversity award
For further details, please contact environment@rbkc.gov.uk 

Pictured below: St. Charles Health & Wellbeing Centre commmunty garden / Local residents planting up the Holland Park Roundabout
Community Kitchen Gardens
As there are no allotments in Kensington and Chelsea, the community kitchen garden scheme was started in 2009. This project transforms under-used, neglected or disused areas of land into allotment style gardens where local residents can grow their own fruit and vegetables. Each plot is approximately 3m2, which provides a small but manageable size plot.
There are currently nearly 50 kitchen gardens in Kensington and Chelsea and over 1000 residents involved in the scheme - if you are a resident and do not have a garden, then apply for a free community kitchen garden plot.
For further details, please contact environment@rbkc.gov.uk.
Pictured below: The Edenham Way kitchen gardeners / A plot at the Swinbrook Estate community garden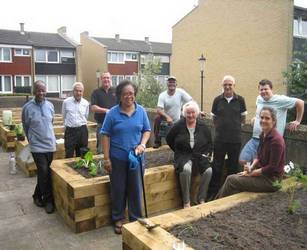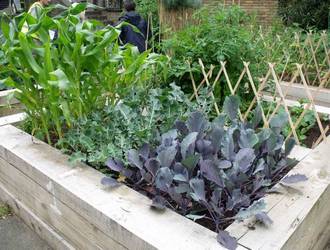 Chelsea Fringe 2018: World's End Estate Community Garden 
Fun with Frolicking Fairies
A day of family-focused activities inspired by flower fairy books of the 1920s.
There will be fairy and elf trails around the garden and a chance to explore the wildlife that lives there. Learn how to construct a bug hotel to take away, make a fruit and vegetable 'beast' and find out more about the plants and flowers growing in the community kitchen garden at World's End.
Date: Sunday 27 May
Time: 11am to 4.30pm
Venue: World's End Community Garden, Edith Grove, Kings Road, London SW10 0EH
Cost: Free to all
Directions: World's End Estate is situated between Kings Road and Cheyne Walk, London SW10 0EG. The community garden faces onto the River Thames and is accessed through the rear of the Estate from Kings Road or from Cheyne Walk. The nearest tube stations are West Brompton or Fulham Broadway. The 11 and 22 buses go along Kings Road towards World's End.
Organiser: William Rallison, Lead Community Gardener, Royal Borough of Kensington and Chelsea, william.rallison@rbkc.gov.uk, 07739 365 470
Further details about Chelsea Fringe 2018 and all events taking place from 19 to 27 May can be found on the Chelsea Fringe website.
Greening Neighbourhoods / Grot Spots
A number of projects are delivered to improve under-used, neglected and/or derelict areas in the borough such as revamping underused parks with equipment, installing sensory gardens, wildflower meadows and green roofs.
Pictured below: Lorne Gardens before / Lorne Gardens after


Bridge And Streetscape Improvement Schemes
North Kensington's Golborne Road Bridge has been given a makeover, transforming it from a tired-looking railway bridge into an attractive local landmark, using a design chosen by local people. Network Rail, owners of the bridge, the Royal Borough of Kensington and Chelsea and local designers Urban Eye and Brownbaby worked jointly on the project after local residents flagged up that the 100-year-old plus bridge was in need of some 'tender loving care.' The work included cleaning repainting and repairing the bridge as well as installing new lighting and new security grilles.
Pictured below: Golborne Bridge before / Golborne Bridge after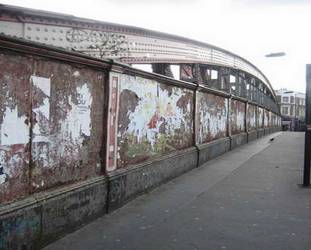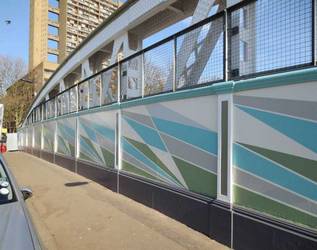 For further details, please contact environment@rbkc.gov.uk.