Barlby Road
The New Homes Delivery Programme (NHDP) has identified a site by Barlby Road as a potential area to help deliver new homes for the borough. This site, currently called Barlby Road, will form part of 'phase 2' of the New Homes Programme.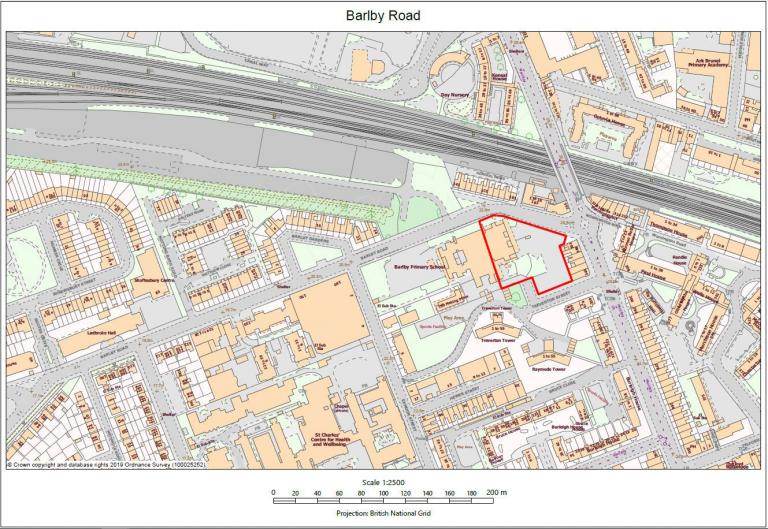 Location and red line map for the Barlby Road site.
Planning application submission

The Council's Planning Applications Committee will consider the application for planning permission to build 83 new homes on the Barlby Road site, including more than half for social or intermediate rent, at a future meeting.
You said, We did, resident engagement events

Following the second round of consultation, we will now be holding two 'You said, We did' resident engagement events to show residents the latest plans for the Barlby Road site and how we have responded to feedback.

In-person event

Thursday 23 September from 3pm to 5.30pm outside Treverton Tower

Online chat session

Wednesday 29 September from 5.30pm to 6.30pm

The proposals for the Barlby Road scheme are outlined in this video presentation. We encourage you to watch the video before attending either our in-person or online 'You Said, We did' sessions however this is not essential.

This will provide details about the plans for new homes and other improvements on the Barlby Road site following the first two rounds of consultation. 

You can also read how the scheme has been adapted following your feedback in the drop downs below.

Know someone who can't get online?

If you know someone who is unable to access the internet, we can arrange for a hard copy of the presentation to be sent to them by post. Please call 07739 313539 Monday to Friday, between 9am and 5pm.

Contact us

For all other enquiries, please contact us at newhomesenquiries@rbkc.gov.uk
Second round of consultation

The second round of consultation into new homes at Barlby Road has now closed. We held two information sessions in July 2021, one in-person and one online, to provide details on how we had incorporated your feedback into the designs for the site. Thanks to everyone who attended and who completed the online survey.

Second round Barlby Road New Homes headline survey results

There was general support for the scheme from the in-person and online events as well as from all six feedback forms
Five respondents supported the inclusion of a sports facility, with one objecting as they felt the space should be used for more homes. Visitors to the in-person event welcomed the facility and wanted it to cater for young people, teenagers and adults
Four respondents were positive about the proposed height of the scheme. It was also supported at the in-person and online events
Concerns raised at the in-person event included overcrowding, encroachment and parking, as well as the need for good security. Positives included the communal garden and the development's design and brickwork
Attendees at the online chat session praised the design, the inclusion of family-sized social housing and the investment in North Kensington.

Read the full report from the second round of consultation.

This round 2 consultation video presentation and slides gave you details of the latest proposals and showed you how we have adapted the plans.

Know someone who can't get online?

If you know someone who is unable to access the internet, we can arrange for a hard copy of the presentation and feedback form to be sent to them by post. You can also request the consultation materials in another language. Please call 07739 313539 between 9am and 5pm.
First round of consultation

 

We consulted residents, local businesses and organisations about the proposals in our first round of consultation at the end of 2020.

We held two online chat sessions as well as an online survey to gather views and received seven feedback forms. First round Barlby Road New Homes survey results.

Headline findings from the first stage of the consultation

Three local residents, organisations and businesses attended our two live chat sessions

Thoughts on the plans for new homes 

More than half of those who responded supported the plans
43% objected due to concerns about the impact on Barlby Primary School

Thoughts on improvements you'd like to see on site

Enhanced street lighting
Pedestrian access from Treverton Street 
Enhancements to community garden

Thoughts on size of new homes

43% three or more
14% two bed
14% all sizes

Thoughts on most important aspects of the site

Three comments on the split between social and private rented properties
Three comments on the provision of outdoor spaces for children

Read the full report from the first round of consultation

Presentation

This video presentation was prepared for the first stage of the consultation which closed on 7 January 2021. It gives you details about the site and our aspirations for it. We'd encourage you to watch the video to gain a better understanding of the proposals.

Download the presentation slides from the Barlby Road public consultation events 2020.

 
Contact us
For all other enquiries, please contact us at: newhomesenquiries@rbkc.gov.uk.
---
Barlby Road questions and answers
How many homes will be provided and how tall will the development be?

We will use what we hear from the consultations to create a scheme that optimises the number of homes we deliver on this site, whilst respecting the adjoining buildings and surrounding area.
How will the planned new homes impact on the play space at Barlby Primary School?

 

 As a result of the new improved building design, which is arranged over a number of different levels, it has been possible to replace external play space for Barlby Primary School in a more efficient configuration which will provide an improved quality of play area.

Pupils from both Barlby Primary School and Kensington Queensmill would also benefit from access to the proposed indoor multi-use sports area.

Anthony Mannix, headteacher at Barlby Primary School, said:

 "Prior to the building project, our school occupied a large site set over several levels. As a relatively small school we did not use it all and it was a challenge to manage for primary age children as it contained a number of steps and blind spots."

 

 "We are very much looking forward to the future when the children will enjoy a well-planned variety of play spaces including roof terraces, ground-level play and a multi-use games area."

 

"The roof terraces will offer outdoor learning spaces for our ASD resource base and the facilities for gardening on the roof are another huge benefit."

 

 "The school has been very fortunate to be involved in the planning for outdoor learning, play and sport. We are particularly pleased to be incorporating play equipment which we know the children will enjoy whilst also having the facilities to teach PE effectively both during the school day and as a part of our extended day offer for the community."
What will happen to existing facilities in the area, such as the community garden and shops fronting onto Ladbroke Grove?

The shops and commercial units on Ladbroke Grove will remain unchanged, but the aim is to enhance their outlook by considering the rear elevation in the formulation of the scheme. As outlined in our presentation, the community garden is a key consideration and will be retained and enhanced.
What is the existing social housing situation in Kensington and Chelsea?

There is a severe shortage of social homes in the borough. High-priority applicants are likely to have to wait a number of years for a home, or potentially longer for three-bedroom and larger properties. As part of our brief we would look to provide as many two and three bed social rent family homes as possible to meet the needs we have in the borough.
What is "social rent"? Will these homes be affordable and how will they be split between social and private housing?

At least 50 per cent of the Barlby homes are proposed to be provided as affordable housing. The majority of these will be social rent (affordable housing for rent) with the remainder as intermediate – including key worker – affordable homes and open market rent. Kensington and Chelsea Council propose to retain ownership of all of the properties.
How will the homes be allocated?

The new homes will be allocated via our Housing Register.
What are the stages of this consultation?

This is a three-stage consultation being held in addition to the 2019 consultation. These consultations will allow residents, stakeholders and the wider community to share what is important to them on the Barlby site. Feedback and views from this exercise will shape designs to be presented at a next consultation planned for early 2021.
How can residents and the wider community share their views?

Residents and other local key stakeholders can share their views via our feedback form and attend chat sessions being held via Zoom on Thursday 3 December, 5.30pm to 6.30pm, and Saturday 5 December, 10.30am to 11.30 am. Alternatively you can contact us directly via email at NewHomesEnquiries@rbkc.gov.uk. We would like to receive you feedback on this round of consultation by 7 January 2021. Please visit our online feedback form to share your views.
What dates are you working towards?

We are currently obtaining views and feedback from the community through a series of consultation events, live chat sessions and meetings with key stakeholders in the local area. This exercise will inform a planning application which is targeted for submission in Spring 2021. If these proposals are approved, there would then be a further technical design period leading up to commencement of construction in early 2022, with completion of the first new homes in mid-2024.
How are you funding the New Homes programme?

The New Homes Delivery Programme is being funded via Housing Revenue Account borrowing and through a grant provided by the Greater London Authority, alongside income from open market homes for rent provided on site. We intend to retain long term ownership of the open market and affordable homes proposed for Barlby Road.
Who are the architects and who would undertake the development?

We intend to build the new homes by employing an experienced contractor rather than using a third-party developer and have appointed an experienced architect to design the project.
Will the new homes be environmentally friendly?

The new homes are to be designed and constructed within the framework set by the Council's fuel poverty, housing improvement and carbon emission reduction objectives. We have set a target for the Council's operations to be net zero carbon by 2030 and for the borough to be carbon neutral by 2040. In relation to the design of the homes, emphasis is being placed on sustainability, for example enhanced insulation to reduce fuel bills, heating, hot water sources and careful use of building materials.  
Will we hire local people to work on the Barlby development?

The Council will employ qualified contractors to build the development. The building contracts will include requirements for apprenticeships as well as employment of local workforce and use of locally based suppliers.
Why are you planning to build homes here and not elsewhere in the borough?

The Council has limited land on which to deliver new homes and this not helped by the densely packed nature of the borough. The Council's New Homes Delivery Programme includes a total of seven sites to date which are spread across the borough.
Why are you carrying out this consultation now rather than waiting until after the pandemic?

The Council has a duty to provide homes for people on the Housing Register and this project will help to facilitate this. We do not know how long the pandemic might last and cannot wait for an indefinite period to seek to provide new homes. In addition, the Mayor of London has allocated funding to the borough to provide new homes and has prescribed deadlines for stages of the project to secure this.
What other facilities/services are you planning to deliver as part of the new homes development, and can we help shape those?

The project would provide a Sports England-standard indoor sports facility which would accommodate five-a-side football, tennis, basketball and badminton. In addition, there will be a smaller space to accommodate health and wellbeing and other classes. The sports facility will be used by the Barlby Schools next door as well as the local community and will be managed by the Council.