View on the Nile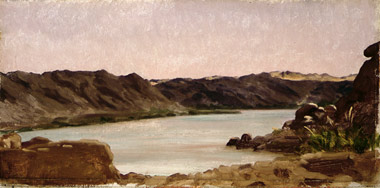 Image Details
Title:
'View on the Nile'
Date:
1868
Media:
Oil on Canvas
Dimensions:
27.3 x 49.5cm
Location:
Leighton House Museum
Picture credit:
The Bridgeman Art Library
Interpretation:
In October 1868, Leighton embarked upon a voyage down the Nile on a private steamer. The majority of Leighton's sketches from this period are views of the Nile or surrounding country, of which this is one. He was interested in the configuration of the countryside and the parallel strata of the Egyptian hills.
>>
Next Image