On the Nile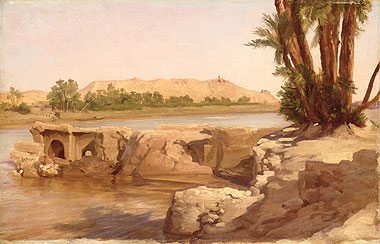 Image Details
Title:
'On the Nile'
Date:
1868
Media:
Oil on Canvas
Dimensions:
26.8 x 41.2cm
Location:
The Fiztwilliam Museum, Cambridge
Picture credit:
The Bridgeman Art Library
Interpretation:
In the autumn of 1868, Leighton took a journey down the Nile, from Cairo to Aswan. He later claimed to have made forty or fifty oil sketches of the country, including about twenty landscapes. Although the exact location of this work has not been identified, the foreground depicts the remains of an ancient structure, perhaps part of a pier or breakwater. In the background is a small settlement with a group of figures in front of it.
>>
Next Image