Portobello Wall Public Art Project
Introduction
The Portobello Wall Public Art Project is an annual public art commission for a stretch of brick wall linking two of the most vibrant and well known market areas in London: Portobello Road and Golborne Road. Since the introduction of this project in 2009, successful installations have created a visual link between these two unique markets, and attract over 1.3 million visitors each year.
This 100-metre long stretch of wall has proved an ideal setting to promote the work of local artists and encourage visitors to continue their journeys further up Portobello Road to the vibrant Golborne area.
2019 Commission: Rhythm and Sound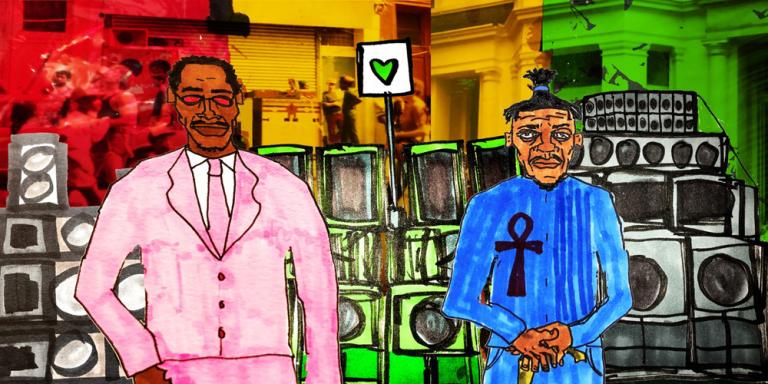 Wise men of the Sound System, Illustration by Benjamin Salmon
Commission awarded to Tony Thomas
Tony Thomas is behind this year's winning proposal, which uses a collaborative approach to create an art installation showcasing work from across the arts spectrum, juxtaposing illustration with photography, electronic with acoustic sounds, ballet with carnival parades. The installation seeks to capture the incredibly diverse musical heritage of North Kensington, and to celebrate it as a place of great and pioneering prestige in the creative arts; from the dance-steps and steel-pan beats of Notting Hill Carnival to iconic performers, groups and venues in the Portobello neighbourhood.
In Tony's words, "The commission has allowed me to connect to many different communities in West London. Each one makes and enjoys different music from around the world. This includes leading London jazz players, Steelpan from the Caribbean, punk, and digital music. Portobello Road reflects the richly diverse community of London and it has been great to be welcomed by all and engage them in my work. Rhythm and Sound in North Kensington is a community-wide positive thread that runs through the history of the area and is worth celebrating. As John McLaughlin says, 'The mathematics of rhythm are universal. They don't belong to any particular culture'."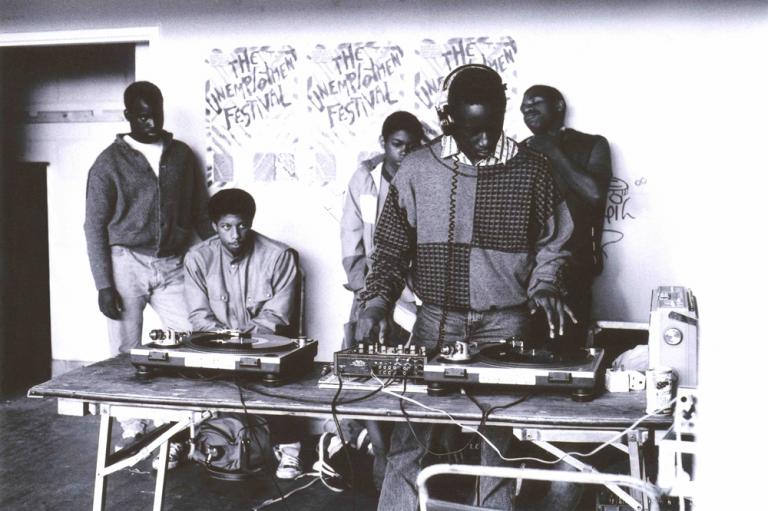 Hip Hop © Shaban, Krew B Boys
About the Artist
Tony Thomas is an artist and musician with over 30 years experience in the creative industries. He trained in creative and performing arts at The University of Northumbria before going to Berkeley, Boston USA to study jazz and double bass. Tony was previously artistic director of Beat Dis a music and arts organisation based at The Tabernacle, and has worked as an educator, musician, sound artist, and technical developer.
With Thanks: Royal Borough of Kensington & Chelsea Arts Service, Carnival Village Trust, Certain Blacks, The Audio Engineer Society, Portobello Radio, The British Association of Steel Bands, Coloursonics, Shannon Ribbons, and Jean-Paul Pirie for technical direction. QR Code illustrator: Martin Abel.
Photographers and illustrators: Stephen Spark, Wayne Crichlow, Jason Garcia, Benjamin Salmon, Carl Gabriel, Peoples Sound, Tara Hobson, Kevin Joseph, Nick Anthony Fiorenza, Moose Azim, Bread and Shutter, Collin Hill, Jim Linwood, John Joe Coffey, Oxford Gardens Primary School, Benjamin Salmon, and Victor Novais.

Special thanks to Janet Kendall, Greg Hunter, and Emelia Thomas
Outreach
The installation is accompanied by a rolling programme of musical events and participatory opportunities from 2019-20. Visit the installation website to find out what's on.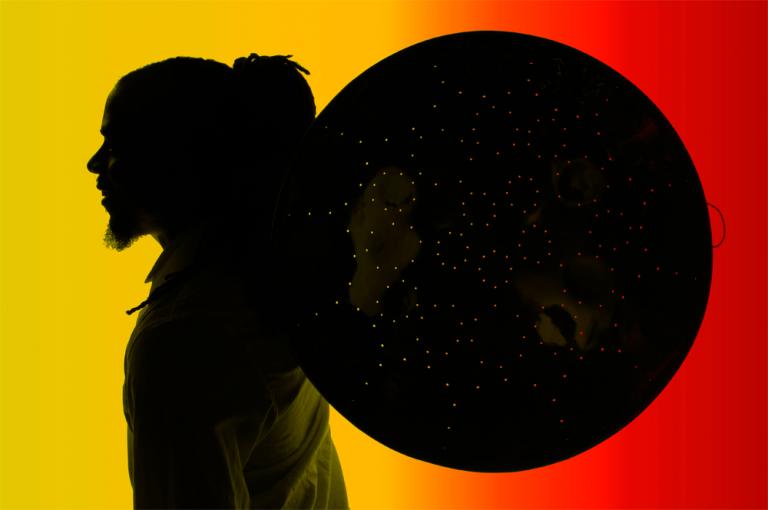 Ten years of the Wall
The Portobello Wall Public Art Project was initiated in 2009, and in the ten years since the 100m stretch of brick wall has hosted vibrant installations responding to a set theme each year. The installations are a talking point amongst stall holders and visitors to both the Portobello and Golborne Road Markets, and add to the eclectic feel of the area. The Golborne Forum has supported the Portobello Wall Art project for since 2012; taking part in the selection, listening to pitches by a succession of diverse artists, and helping with broadening the reach of the commission.
Find out more about the history of the project: