Information on how you can organise a street party and make sure you have all the right permissions.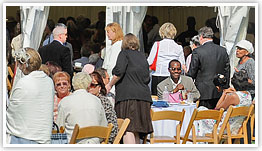 Street parties are a traditional part of British life; they're fun and bring neighbours together.
We want to help you to organise your street party with minimum fuss and expense, so we've simplified the application process and produced this straightforward guide.
What is a street party?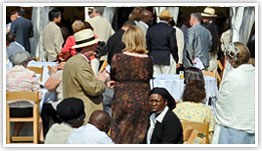 Street parties are get-togethers for neighbours. They're not advertised to the wider public and they're not commercial activities. Street parties take place in small residential roads where they will not affect traffic or parking. They are organised by residents for their neighbours and do not include selling anything, including food and drink, or having professional entertainment.
If you are unsure if the event you are planning qualifies as a street party, if you live on a major road or if you want to plan a bigger event please contact us on tel: 020 7341 5762, or email us at streetparties@rbkc.gov.uk What about road closures? Do I need insurance? Can I serve food? Read the answers to these and other commonly asked questions.
What do I need to do?
We will respond to you within ten days to confirm that your plans can go ahead.
Food and drink
One-off events such as street parties aren't usually considered food businesses but you do still need to let us know that they are taking place by completing the street party application form. If you are planning a larger event that anyone can attend, selling tickets to your event, or selling food / drink at the event then you will need to submit an online special events application form and you should contact us on tel: 020 7341 5762, or by email at: specialevents@rbkc.gov.uk
Food hygiene legislation will still apply if food is provided to members of the public regardless of whether money has been exchanged. Food providers do not need to have a food hygiene certificate but should take responsibility for preparing food in a safe and hygienic manner.
Advice from the Food Standards Agency and NHS Choices
Find out about providing safe food at street parties and other community events on the Food Standards Agency website.
View practical tips on food hygiene on the NHS Choices website.
---
Enjoy your party
You may want to look at some helpful hints put together by Streets Alive, an organisation that promotes street parties. Visit www.streetparty.org.uk  / www.thebiglunch.com.