Leighton House
Evelyn De Morgan: The Gold Drawings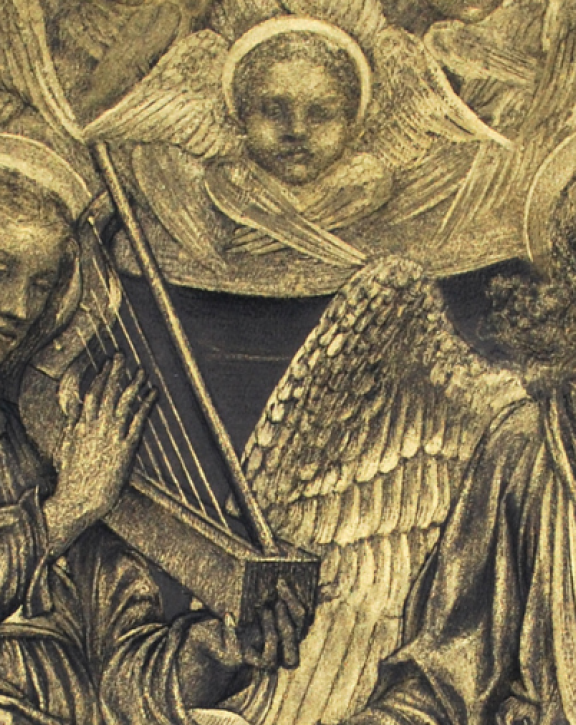 Event Information
Duration:
From 11 March to 27 August 2023
The exhibition Evelyn De Morgan: The Gold Drawings (11 March - 27 August) explores De Morgan's unique practice of making gold drawings, showcasing 13 artworks loaned by the Trustees of the De Morgan Foundation and Victoria Dolorosa from the Leighton House collection. In addition, preparatory drawings for the figure of St. Francis made in pastel on paper are included to showcase De Morgan's working method and skill as a draftswoman. 
This exhibition will be the first since 1896 to display a group of these beautiful artworks made in brilliant gold pigment on dark grey woven paper. De Morgan initially discovered this technique through Edward Burne-Jones but her works went beyond this initial inspiration. Using solid blocks of pure gold pigment and grinding them to a powder, she invented crayons and paints that she then specifically applied to the production of her drawings, which remain luminous today.
Featuring angels, saints, biblical figures and mythological deities, these drawings celebrate those who are in some way superhuman, or close to godly.  Depicting her subjects in gold suggests De Morgan made the drawings to possess talismanic qualities. 
Evelyn de Morgan, The Gold Drawings at Leighton House review: a bijou show but burnished to brilliance
Read the Evening Standard 4-star review
Bespoke materials and innovative techniques 
De Morgan purchased 'cakes' (dry pellets) of gold pigment from her colourman Charles Roberson and grounded them into powder to form a guache paint and a hard crayon. Each drawing has a unique texture and decorative quality achieved through her varied mark making and media. 
The woven paper was probably purchased already coloured (rather than having to  dye it) and the gold pigment was burnished and rubbed into the paper to add depth and interest to the compositions. Two of the works (Gloria in Excelsis  and Victoria Dolorosa) were made on Canson Montgolfier paper. This French supplier of art materials sold through various London colourmen. Canson Montgolfier were particularly well known for their pastel paper which had an excellent texture for holding this tricky material. Degas and Burne-Jones regularly bought Canson Montgolfier paper for their pastels  
Why are these drawings special? 
De Morgan created these drawings using materials of her own invention, making them unique.
Unlike her other drawings, which were usually sketches made in preparation for an oil painting, De Morgan saw her gold drawings as artworks in their own right and exhibited them in her lifetime.
Only 17 of these drawings are known to survive and this exhibition presents 11 of them.
Supported by the Dr. Lee MacCormick Edwards Charitable Foundation.  
Curated by Sarah Hardy, Director of the De Morgan Museum.  
Evelyn De Morgan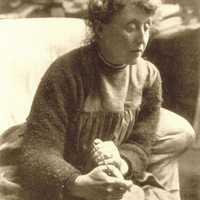 Evelyn De Morgan (1855–1919) was an accomplished professional artist across a range of media. She trained at the Slade School of Art, becoming one of the first women to be awarded a prestigious scholarship by the school in 1874. Her paintings were well received in exhibitions at the avant-garde Grosvenor Gallery in London and critics praised her skill and talent. 
Throughout her career, De Morgan made sketches and studies on paper. The vast majority were working drawings; tools to help her prepare for her paintings. However, her series of gold drawings on dark paper are different, created as artworks in their own right. She exhibited seven of these at the Fine Art Society in 1889 where critics commented on their 'imaginative design' and 'peculiar effect'.  
This exhibition allows De Morgan to be celebrated for her artistic merit which equalled her male peers. 
Plan your visit
Tavolozza Drawings Gallery
11 March to 27 August 2023
10am to 5:30pm - last entry at 5pm
Free entry