Published: Monday 20 February 2023
An 86-year-old grandmother has found new ways of connecting with her family after taking an adult learning course with Open Age, supported by Kensington and Chelsea Council. Now the Council is encouraging more people to sign up to funded adult learning to enhance their lives.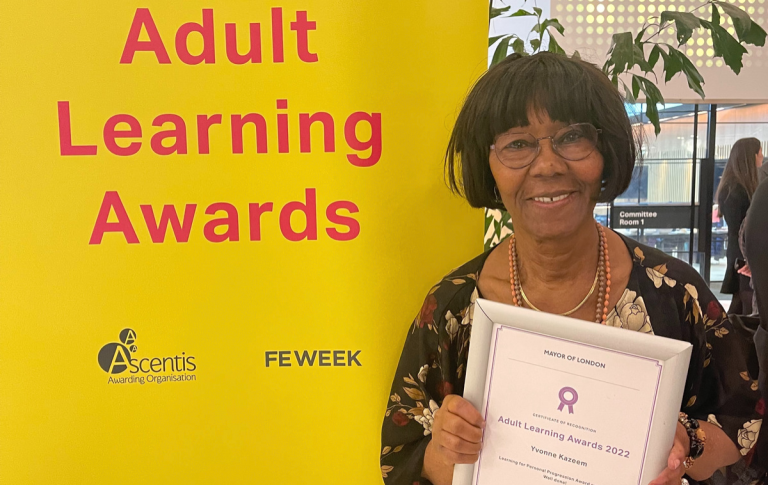 In the height of Covid19, Yvonne Kazeem found herself increasingly isolated and missing family. Whereas before she had been able to rely on seeing friends and family face-to-face the services and support network she counted on were now harder to access without getting online. She discovered Open Age and enrolled on a number of digital skills courses. 
Starting as a beginner, she developed the confidence to progress to more advanced courses and was even awarded highly-commended certification in the first ever Mayor of London Adult Learning Awards recently. 
Silver surfer Yvonne Kasim said:
"I would see people on the train on phones and all kinds of things and I thought I would like to learn – maybe I need to. I had to be brought up to date to the 21st century, but I felt that colleges and places of learning were for younger people, not me. I couldn't do anything before because I didn't have anyone to show me how.  
"The tutors have been so patient with me. Now I can email the council, search for news and contact my family. It helped me through the lockdown – I don't know what I'd have done otherwise."
Learners from all backgrounds, ages and stages are welcomed. Kensington and Chelsea residents are being encouraged to upskill through access to funded adult learning courses or business training ranging from one day to a year. Twelve local delivery partners have been funded to provide the courses in local places and spaces.
Lead Member for Local Economy and Employment, Cllr Josh Rendall said: 
"Heart-warming stories such as Yvonne's shows us all that it's never too late to enhance our skills and inspire future generations, we're proud to be able to help people make that initial start.
"Supporting the self-development of our residents through varied and engaging funded adult learning programmes, helps to create well-rounded and confident communities who are able to seize opportunities either through employment or enterprise."
Whether it's preparing for work, gaining a qualification or learning new skills, from the age of 19+, locals will be supported on their journey regardless of their previous educational history. With something for everyone, courses vary from reading, learning English, maths and digital skills to arts and crafts, dance or gardening, with some designed for the over 50s. In addition, local entrepreneurs are being supported to upskill and take their business to the next level with funded training.
If you or someone you know would like to find out more about adult learning and training opportunities across the borough, please visit www.rbkc.gov.uk/adultlearning.