Published: Thursday 12 May 2022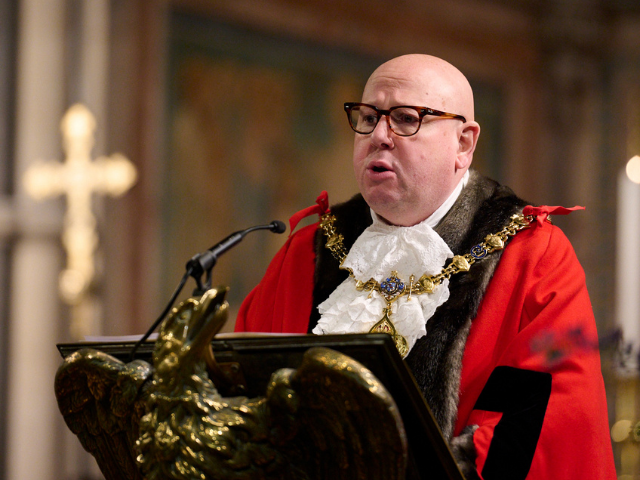 There have been too few celebrations over the past two years, so the Mayor's Platinum Jubilee event promised a particularly special opportunity to gather people together to celebrate The Queen's special year.
The service at St Mary Abbots Church took place in March 2022 andwaspresided over by The Revd Emma Dinwiddy Smith and attended by Councillors and past Mayors alongside representatives from local community groups, leaders of faith groups, local business leaders, arts and cultural groups as well as healthcare professionals, Armed Forces representatives and High Commissioners from a number of Commonwealth countries.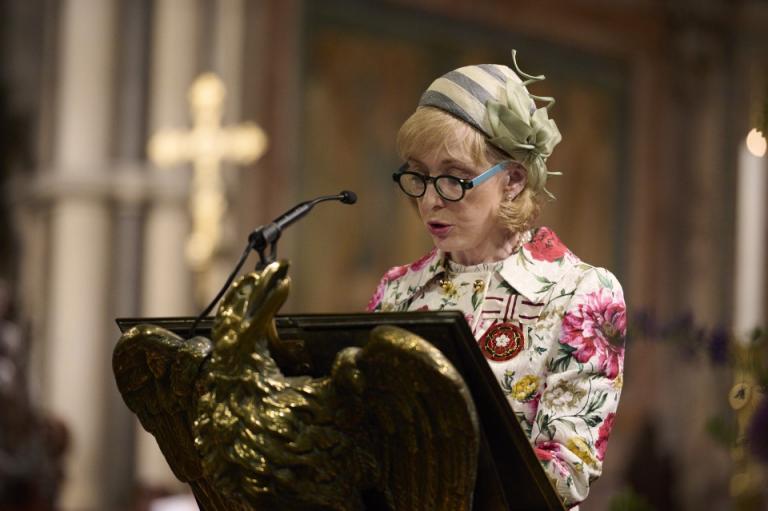 Lady Arnold, Representative Deputy Lieutenant for the Royal Borough, read an extract of The Queen's 1975 Christmas broadcast. In it, The Queen noted how no matter the size, a stone will always affect the surface of water — bigger stones may create waves, but the ripples from a smaller stone, no matter how small, will still show impact. The message being that in our own lives, our actions, whether a tremendous act of courage, or a small act of kindness, makes a difference. When asked about what it means for the Royal Borough to hold events for the Platinum Jubilee, Lady Arnold said, "I love the fact the borough is making a really big effort to do a borough-wide community party… These parties will see a wonderful mixture of people from right across the borough, those of all faiths, all nationalities, all coming for a wonderful occasion. It's going to be great." 

The Choir of Kensington Aldridge Academy also performed a song the students had chosen inspired by The Queen's long reign and enduring popularity through good and difficult times. Marianne, whose daughter performed with the Kensington Aldridge Academy choir, said, "Through [RBKC] offering opportunities like this to local groups and schoolchildren, students can access really amazing events and venues and experience so many unique places which is such a privilege."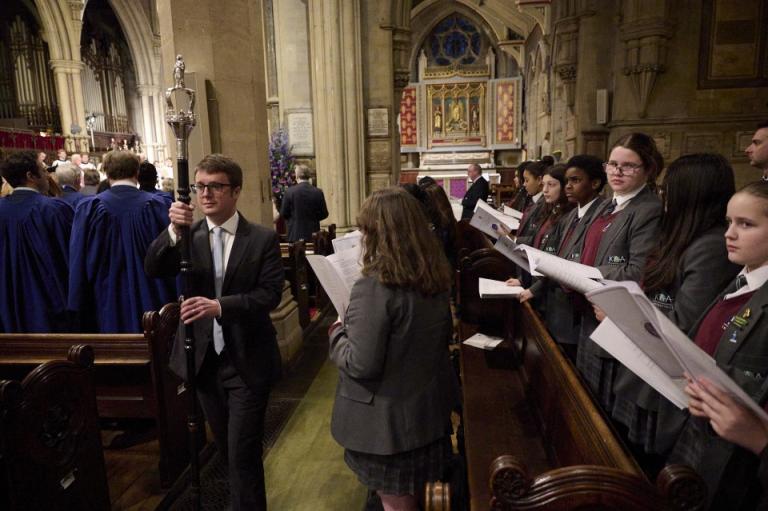 Mayoral Chaplain, The Revd Canon Dr William Taylor noted in his address how The Queen has navigated through difficult waters throughout her reign. Her commitment to her role of service was cited as part of her enduring popularity around the world.

Speaking with guests from the Royal Hospital Chelsea, one Chelsea Pensioner recalled meeting The Queen years previously. "I was in China at the British Embassy [when The Queen came to visit in 1986] and there were thousands in the street. I was part of her advance party; we met her in Shanghai. A few days previously, my daughter presented her with a bouquet at the embassy. [I] raised the royal standard when she came into the embassy. When she saw me she said, 'Your daughter gave me the bouquet in Beijing.' And she did! She is an amazing person… [When she comes in] it's like the whole place [is] lit up".

At the post-service reception, Mayor Cllr Gerard Hargreaves welcomed the community groups in attendance including local resident associations, "the heart of the borough" and looked forward to a great summer of activities to mark the Platinum Jubilee.

Leonora Service, PA to the Vicar at St Mary Abbots Church, said "It's really important to host an event like this, with so many people from so many different religions and backgrounds reflecting together. It shows how diverse the borough is."

It was also the first outing of the year for musical performers, the Mangrove Steelband. A stalwart of Notting Hill Carnival, we can't wait to see them back in action in August for our first in-person Carnival in two years.  
Thank you to all those who attended the evening and who made the night so special.