Published: Wednesday 9 March 2022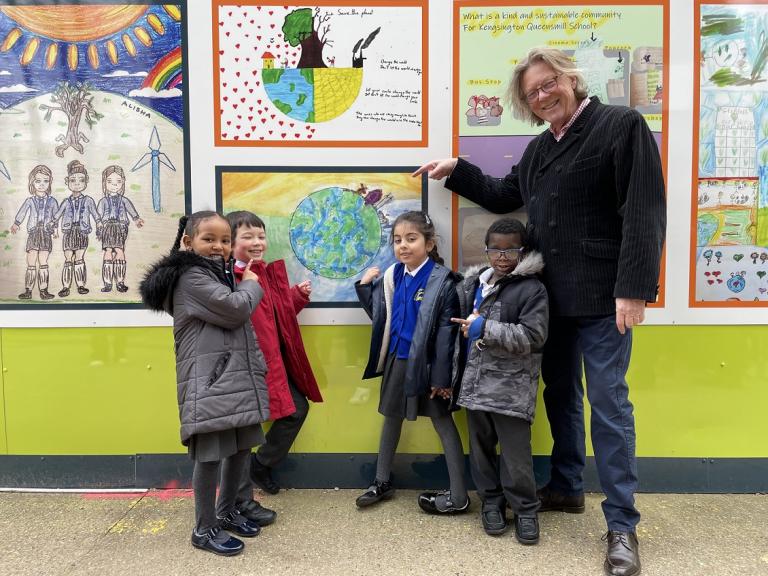 It was a proud moment for pupils from schools in North Kensington who saw their artwork on display at two of the Council's new homes site on Monday 7 March 2022.
Pupils from five schools visited 175-177 Kensal Road and 15-17 Hewer Street to see their artwork in all its glory on the site hoardings and meet Cllr Kim Taylor-Smith, Lead Member for Grenfell, Housing and Social Investment.
They visited the sites after taking part in an art competition last year organised by the Council and Wilmott Dixon, the contractors building the new homes on the two sites.
The competition offered pupils the chance to get involved in the two schemes by creating a picture that explored one of three themes – brilliant buildings (saving energy), building lives (supporting our community) and better planet (protecting the environment).
The three themes encompass Willmott Dixon's Now or Never strategy that has been created because the environmental and social challenges our world faces have never been greater. They also align with the Council's own value of Putting Communities First.
Some of the pupils we spoke to were keen to talk about how important it is to be inclusive and ensure the new homes are for people from all different backgrounds. Others wanted to explore what we can do as a borough to tackle climate change while some talked about a sense of pride and community in the area they live.
Gabriella, aged eight, from Ark Brunel Primary School, said: "We started with the virtue of respect, and the doors [in the picture] represent lives and that it doesn't matter which skin colour you have." When asked how she felt about her artwork being up on the wall for everyone to see, Gabriella said she was "shocked and excited."
Bethel, Victoria and Yaffet, aged between seven and eight, from St Mary's RC School, said: "Our artwork is about saving the planet. We were reading 'Our Planet' when we made the artwork which was about saving the environment and not using vehicles which pollute the planet."
Alisha, aged 11, from Barlby Primary School said: "My artwork shows how the Earth could look like if humans living on it would treat it better. I'm really proud of it."
Malyah, aged 11, from Barlby Primary School said: "We're really excited that everyone will see our artwork because we spent a lot of time working on it."
Winners of the competition won paint sets courtesy of Wilmott Dixon.
Cllr Kim Taylor Smith said:
"It's been great to get out and take a look at the artwork which brings a sense of community to our new homes schemes on these sites. The artwork is impressive and after talking to the pupils I've been blown away by their desire to improve our planet and how conscious they are of the environment and how we all need to work together to improve how we treat the planet. 

 

"The homes we are building are for future generations and we are ensuring they are as environmentally-friendly as possible. Some of these children and their families may end up living in one of these new homes so it's really important that they feel part of what we are building and understand what we are doing.

 

"I hope to have some of the pupils back to look around the sites when they are closer to being completed. This is all part of our emerging social investment approach of which I'm very proud."
Hewer Street and Kensal Road are two of the Council's Phase 1 sites in its New Homes Delivery Programme which aims to build 600 new homes, 300 of which are for social rent. 
Hewer Street will provide 20 new homes to rent - 10 of which will be offered at intermediate rent available to key workers while Kensal Road will offer 37 new homes – 27 at social rent and 10 at intermediate rent – alongside flexible community and commercial/retail space.
List of winners and their schools
Ark Brunel Primary Academy – Gabriella (8), Millie (10), Gabriel (10), Damian (9) and Kayla (10)
Barlby Primary School – Alisha (11) and Malyah (11)
Bevington Primary School – Gabriel (6)
Oxford Gardens Primary School - Hisham (9), Aicha (8), Ramy (8) and Layan (8)
St Mary's RC Primary School – Year 3 pupils