There is an opportunity to plan for major change in Notting Hill Gate. The Council has prepared a draft Supplementary Planning Document (SPD) that will be used to assess any planning applications that come forward.
Draft Supplementary Planning Document (November 2013)
The public consultation on the draft Notting Hill Gate SPD closed on 23 January 2014. 144 responses were received and following review of the comments significant changes have been made to the SPD and the Council has decided to  re-consult before adoption.
You can still view the first draft of the Notting Hill Gate SPD and background information below.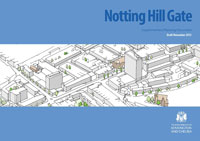 The following related documents are available to download:
Keep an eye on this web page or subscribe to the Council's Planning Direct bulletin to keep up to date about the SPD.
Page last updated 11 February 2014
Last updated: 29 November 2019