Museums in the Royal Borough
The Royal Borough is home to some of the world's most famous museums established following the Great Exhibition of 1851. But did you realise that just off High Street Kensington there are two absolute gems, Leighton House and Linley Sambourne House, which are well worth visiting? They are just a short walk from Kensington High Street underground station (see map).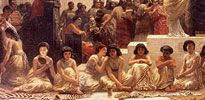 The extraordinary studio-house of the eminent Victorian artist Frederic, Lord Leighton.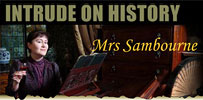 Home to the eccentric Victorian cartoonist.
Map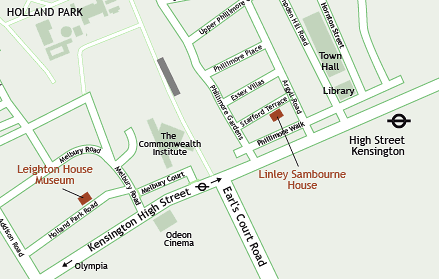 Download and print PDF version of this map (PDF file 35 Kb)
If any of the information in this A - Z entry is incorrect please contact information.services@rbkc.gov.uk who will be happy to make amendments.
Disclaimer
The Royal Borough provides this A-Z database of council departments, local and national organisations as part of our service. We work to ensure the information is accurate but cannot accept responsibility for any inaccuracies or omissions. The Council does not necessarily endorse all the organisations / service providers listed in this database. If you have any queries about information listed here please email information.services@rbkc.gov.uk.

PDF stands for Portable Document Format developed by Adobe.
For help and download tips see About Adobe and PDF files. You need a copy of Acrobat Reader on your computer to access a PDF file. Get either a free copy or upgrade by accessing the following link - download Adobe reader.
If you have difficulty accessing PDF documents, there are some useful online tools available on the Access Adobe website which can convert PDF documents into HTML or text. Click the following link http://access.adobe.com