About Holland Park
Holland Park is the Royal Borough's largest park. It has the following facilities:
22.5 hectares of gardens
children's play facilities
sports areas
a cafeteria
large areas of woodland abundant with wildlife
Holland Park also has the beautiful Kyoto Garden. This is the Japanese garden donated by the Chamber of Commerce of Kyoto in 1991.
Holland Park is also the base of the borough's Ecology Service. The Ecology Centre at Holland Park runs a series of events, activities and educational visits for schools. We also run a wildlife club for children, holiday activities, and a full programme of events for all ages.
Address
Ilchester Place, W8 6LU
Opening times
7.30am until 30 minutes before dusk 
Holland Park Adventure Playground
The Holland Park Adventure Playground is now open. For more information please visit the Holland Park Adventure Playground page.
Book to play sports
Holland Park has facilities for:
tennis
football
golf practice nets
cricket practice nets
netball
Health walks and other activities are also run in the park.
See links below for walks in and around Holland Park:
Holland Park walk with London Footprints
For more information see sports facilities in parks or to book the facilities call: 020 7602 2226.
Holland Park management plan
Holland Park has a management plan which you can read here:
Download the Holland Park Management Plan [PDF] (file size 688Kb)
History of Holland Park
Holland Park is spread across 54 acres of what used to be the grounds of Cope Castle, a large Jacobean mansion hidden in the woods. Sir Walter Cope built it in the early 17th century. He became Chancellor of the Exchequer under King James 1.
It was renamed Holland House after the Earl of Holland's wife Lady Rich inherited the property.
Holland House was badly damaged during World War II. One wing was saved and is used as a youth hostel. A section of the front terrace was saved. This is used for the park's summertime open-air theatre productions and classical concerts.
Kyoto Garden was designed and built by an eminent Japanese Garden designer and his team. It was created to celebrate the Japan Festival in London in 1992. This was a co-operative project between the Royal Borough of Kensington and Chelsea and the Kyoto Chamber of Commerce in Japan.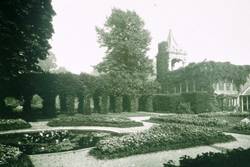 Map
Kensington High Street underground station:
Notting Hill Gate underground station: