Councillor Gerard Hargreaves to serve as Mayor for a second term
Councillor Gerard Hargreaves was elected to serve as Mayor of the Royal Borough of Kensington and Chelsea for 2021/22 at the Council's Annual General Meeting on Wednesday 26 May 2021.
This will be Gerard's second term as Mayor, having also been elected to the role for the 2020/21 Mayoral year.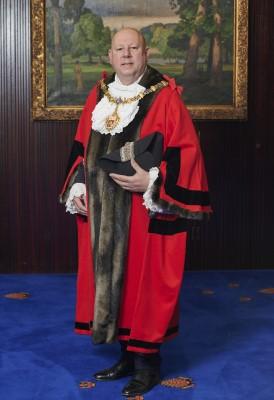 The Mayor, Cllr Hargreaves
First elected to the Council in 2010, Councillor Hargreaves represents Chelsea Riverside ward, and was part of the Cabinet and Leadership Team from 2013.
During that time, he held various portfolios including Community Engagement, Community Safety, Planning, Transport, Culture and Leisure. He served as the Mayor's Consort from 2017-2019.
Gerard has represented the borough on the Greater London Reserve Force and Cadets Association and as a Council Appointed Trustee at Al Manaar, Muslim Cultural Heritage Centre.
Councillor Gerard Hargreaves said: "I am honoured to have been elected as Mayor for a second term. As we emerge from the lockdown, the Deputy Mayor and I look forward to being able to get out and about much more to say thank you to residents and businesses who have worked so hard throughout the pandemic and to support the borough's recovery."
Gerard was born in Lancashire and went to University in Wales. He served in the British Army for seven years and now runs his own Management Consultancy specialising in Executive Development. He has lived in Kensington and Chelsea for 30 years.
The Chaplain for the Mayor is Rev. Canon Dr William Taylor, vicar of St. John's Notting Hill.
Councillor Gerard Hargreaves appointed Councillor Sof McVeigh as his Deputy Mayor. She was elected in 2018 to represent Brompton and Hans Town ward on the Council and also served as Deputy Mayor in 2020/21.
Gerard also decided to appoint Glass Door Homeless Charity as the Mayoral Charity for a second year. Visit the Glass Door website.
Contact us
Mayor's Office
The Royal Borough of Kensington and Chelsea
Town Hall, 8 Hornton Street, London W8 7NX
Telephone:  020 7361 2431
Email: mayor@rbkc.gov.uk