Portions of the interior of the Grand Mosque of Damascus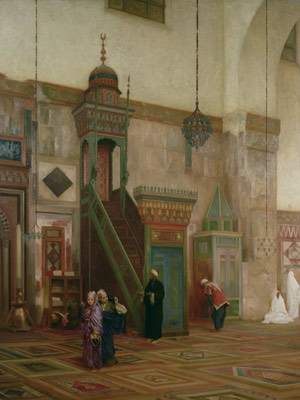 Image Details
Title:
'Portions of the interior of the Grand Mosque of Damascus'
Date:
1873-75
Media:
Oil on Canvas
Dimensions:
158.1 x 122cm
Location:
Harris Museum and Art Gallery
Picture credit:
The Bridgeman Art Library
Interpretation:
This painting was worked up from an oil sketch that Leighton made on the spot, whilst visiting the Grand Mosque during his time spent in Damascus in the autumn of 1873. It is a view looking towards the 'mihrab', with various figures in the foreground. The mosque was destroyed by fire in 1893, however, the façade and dome have since been rebuilt.
>>
Next Image